Colorado Parks and Recreation Publication are a member benefit.  Please sign into your membership to view or click here to join CPRA and read these great publications!
Colorado Byline Magazine
Looking to partner with CPRA and market to members? Advertise in the Colorado Byline!
2023 Rate Card & Media Kit
CPRA partners are a great resource for our members! Check out our list of Industry Partners and their solutions for your next project. Or view the Grant Resource Guide here: 2023 Buyer's Guide
We welcome your content submissions:
Recent Byline Issues
The Colorado Byline is a CPRA Member benefit available to members only. Click below to sign in and view recent issues.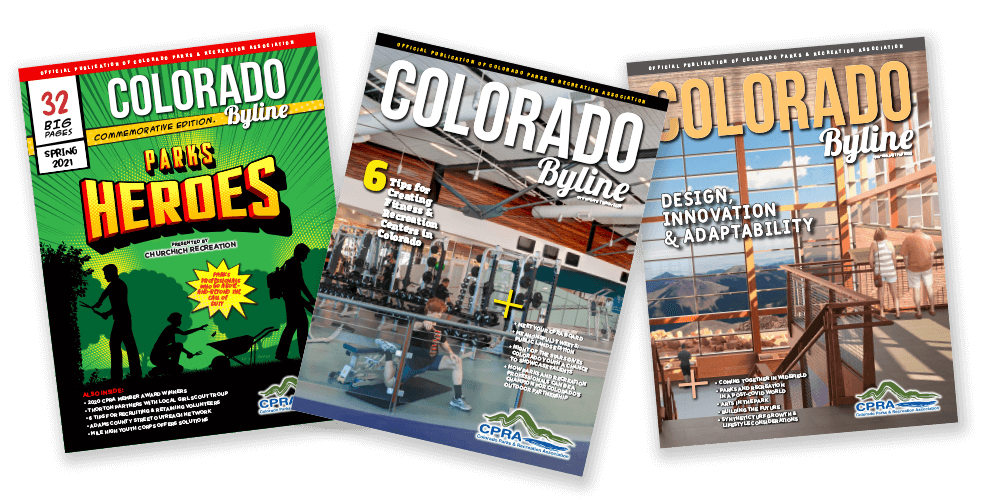 Technical Tuesdays
CPRA's Technical Tuesday emails provide our members with insight on the current technical trends in the Parks & Recreation field and available solutions provided by our Industry Partners. Sent to the membership twice a month, the emails provide an opportunity for our professional and partner members to network and engage. P&R professionals across the state need the latest offers and solutions, while our partners need to know how to best help their clients. Technical Tuesdays provide an avenue to serve both sides. Participate in our once-a-month Technical Tuesdays survey to provide your feedback on the leading questions on our partners' minds so you can help bring the industry together. Plus you'll be entered for a chance to win a $25 Amazon gift card for participating! Technical Tuesday emails and surveys are sent to all active CPRA members. Keep an eye on your inbox and check out the data here to get your gears turning with the latest from the industry!
Industry Partner members are guaranteed 2 inclusions in Technical Tuesday emails per year when renewed by 3/31. There are also additional paid advertising opportunities available in each issue. Interested in advertising in a Tech Tuesday? Contact us!
View an example of a Technical Tuesday email here.